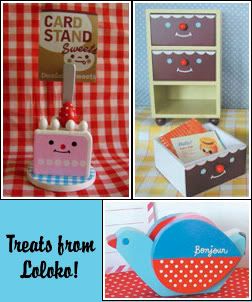 In honor of me getting a new studio space (goodbye, old dining room!) I decided to pick up a few cute things from
Loloko
to cutify my desk.
I guess, theoretically, getting a new studio space means I shouldn't need to buy myself presents beyond that, but I did. Thankfully, in addition to being beyond cute, they are wonderfully inexpensive.
I was feeling really energized after visiting the
San Jose Museum of Quilts and Textiles
yesterday. Usually I try to avoid doing too much craft-related stuff over the weekends, because I don't want my whole life to be about sewing. But then going back to the grind on Monday is so tough after all the socializing and partying and eating out and movie-watching. But seeing the exhibit there was a good reminder that I did choose the path I'm taking now, and for good reasons.